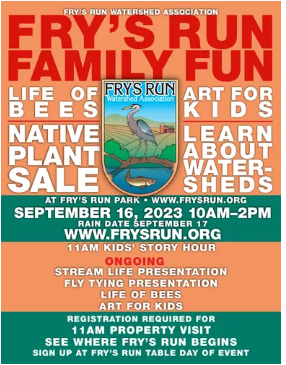 Saturday, September 16, 2023, 10 AM to 2 PM, offers healthy outdoor activities for
young and old, children and parents alike. Activities begin at Fry's Run County Park,
corner of 611 South and Royal Manor Rd. in Williams Township, PA.

At the park home base, they'll find a plethora of native plants for sale — monarda,
mountain mint, phlox, ginger, blue lobelia, native coral honeysuckle among others – as
well as shrubs and trees like sweet birch, elderberry, red twig dogwood, and redbud.

Visitors will learn firsthand at Fry's Run how to preserve a stream by examining
everything they can catch in a net (from crayfish to stoneflies). Kids can express their
impressions about the pollinator plants and macroinvertebrates they'll see in the stream,
guided by artists Mary and Don.

Honey bee culture will be demonstrated by Matt, who reminds us that foraging bees
must collect nectar from approximately 2 million flowers to make a single pound of
honey. Joining the activities is a member of Trout Unlimited, who will show how to do fly-
tying. And Didi and Eileen will entertain the children during 11 AM story hour.

At 11 AM at a nearby property visitors will see how and where a stream begins its flow
to the Delaware River, guided by biologist Lorraine — what challenges a stream meets,
what impediments it overcomes.

Admission free, the program welcomes everyone. Rain date Sunday, September 17.
For information: call 610 253 8951.